After getting sick of all that pizza and wifi everywhere, it was time to make a move towards Chile and the Torres Del Paine.

This national park is in Chile, so it was going to be our first border crossing on the continent. And it turned out to be very easy. No issues with our very basic bike papers or anything.

The road in and to the national park is all dirt, so it became quite an eventfull ride.




After about 90 km to the entrance of the park you pay your 20 Aussie dollars and you ride wherever you want to along the few dirt routes. It's all quite well setup really and offered some awesome dirt riding.

The mountains are these bunch of wind carved jagged peaks which has some walking trails in and around it. But to accommodate the tour buses, they also built these dirt routes around it, although nowhere near as many as the walking trails, which get much closer.




Awesome riding though.




We figured that we'd take 2 nights at one of the camp sites available. These offer the required tent shelters. Because the winds can reach up to 300km/h (in winter) there are a real necessity for camping around here. No rough camping allowed anyway.
On this campsite we were visited by a Puma, and judging by the staff's reaction this doesn't happen very often.

They first saw it on the ridge, but because they chased it up there, it turned into the camp site and walked right passed our parked bikes. Luckily Mars wasn't there, because I was on my way getting beers when we saw it.

We are parked just on the other side of that dirt path.




It walked across the road into the mountains after that.




The weather was much improved after the cloudy and windy day before, and we did a bit of riding around the park.




Our next plan was to ride the Carreterra Austral in Chile north to Santiago. Unfortunately, due to all the glaciers and mountains, this part of Chile is separated from the rest and only accessible via boat to the north, or by road via Argentina the way we came. So we had to get backtrack into Argentina and find another border crossing into Chile. Unlucky for us the border crossing we had in mind is currently not accessible by motorbikes. We had planned to take a ferry across Lago Desertio near El Chalten, but we met some cyclists that did that and they mentioned mud up to the knees and thick trees fallen onto the horse trail. So we now had to try and see if there was another ferry crossing across the larger Lago Villa O´Higgins which required us to drive all the way back to Tres Lagos.

Again unluckily, the wind was twice as bad as before, and we were really getting blown of the road at times.
Some of it was dirt, but as if it was planned, they were the least windy sections and are a lot of fun.




In Tres Lagos they told us that the ferry we saw on a map didn't operate anymore, which meant we had to backtrack another 300 odd km along Ruta 40 to Baja Caracoles.




Where I had a great time riding days before, now it was pure misery. The winds were so strong that you couldn't stay in the wheel tracks and at every gust we were blown into the deep pebbles on the side of it which sent you off the road due to the lack of traction for the next gust.



Just minutes before we arrived at Baja Caracoles, Mars had her second drop doing a U-turn. The first one was scraping a car, but the driver didn't care less about that one. Mars was less impressed with this one. But she hides it well, eh?




From Baja Caracoles you can take a little track (Ruta 41) to the border. This was a fantastic dirt ride. The track was in a lot better condition and became a windy 4WD track towards the border which just begged to be flown over.




The border was again very simple, with even less paperwork. The weather became a bit rainy though, but the Chilean border guard offered us a cup of Nescafe to warm up. Can't say I've ever had anything like that happen before.
We plugged in our modified heated jackets and put on our rain gear and away we went into Chile. That heated clothing thing is just fantastic. Can't rave about it enough. I bought a Gerbing battery heated vest and found they used heated pads kept in little pockets. All the other gear is resistance wire sewn into the usually crappy fabric. But with this we would be able to sew pockets into our windproof soft-shell jackets and we'd have 2 in 1. I also asked a mate at work who's an electrical engineer to built me a 7.4v - 12v converter. This way we could run it straight of the bike and leave the battery to warm up the sleeping bag at night if things get really cold. It's now summer anywhere we go.




It all improved on the other side of the pass, and it then became all about dodging Guanaco's. Whole herds of them hanging out in the background.




Mars noticed a crack in her pannier though, so we needed to be on the lookout for an aluminium welder somewhere.




Cochrane, the first town we'd visit, didn't have any. But we were told that Coyhaique 350km odd up the road would.

At the outskirts of Cochrane we met 2 Brazilian and 1 South African bikers and they had some good news on the purchasing tyres issue. Osorna had everything we would need, and luckily for us it´s right at the end of the Carreterra Austral.




The Carreterra Austral was meant to be gorgeous, but besides the areas around Cochrane I thought is wasn't living up the reputation. The condition of the road is really bad but due to the blind corners it doesn't allow you to ride aggressively.




At a place where we had lunch the owner told us about this road up a river valley which he said would be awesome. But besides the camp site we found it wasn't all that really.




Some glaciers up in the mountains.




It was a cold night, but the morning scenery made up for it.




The rest of the day did offer some great views along the lakes.




The pavement starts in the last tiny town 100 odd km before Coyhaique and becomes this race track of concrete for a section of it. But than it turns to bitumen all the way through a valley that had me wonder if I was in the European Alps and almost thought about popping into my folks for a coffee. But reality kicked in and we rode into Coyhaique and the fun of finding and haggling for hotels was to start.

After a day off we packed everything up to leave town. But as we did that we found the cause of the noises on my bike. The top box was just too heavy for the little frame holding it.




So I dismantled the rear of the bike and got it welded along with Mars´ pannier by the only Aluminium welder in town. But he didn't use a TIG or MIG, so I'm not quite sure how he managed. The little frame looked pretty good after the repair.




Mars´ bike which I used for transport didn't sound all that hot either. It actually had more rattles than mine, so there were even most spanners to be turned. A few loose and missing bolts, but no damage.

Besides a nice area around Cochrane, we weren't very inspired by the Carretera Austral. The scenery wasn't all that great to live up to the hype and the road is in a crap condition to be a fun dirt ride.

Just outside of town the valley was in full bloom.




Things then got tighter and often became single lane, 2 way.




Mars scared and hiding from the rumbles of the nearby glaciers and potholes.




Not far down the road Mars had here second ever puncture caused by one of those potholes.




So the lookout was now for some shade so I could repair it. There was nothing road side and it was stinking hot, but a local dairy farmer took pity on us and let us do it on the side of his shaded farm road.




The puncture was a beauty. It ripped a nice hole into Mars´ tyre. Luckily for her this tyre only needed to finish the Carretera Austral as new tyres were on the horizon in Osorno.




The ferry to Puerto Montt leaves from Chaiten which only months ago became a ghost town after the nearby volcano erupted leaving the whole place covered in ash. Only weeks ago no-one was allowed to stay here. But someone challenged this in the courts and it got overruled. Luckily for us because there is no fuel nearby and the ferry in only twice a week.




There is only one place to stay with a few more probably opening back up soon. No restaurants or café's though, so the only open shop and the hostess´ cooking is all you have to food.




We had a day and a half of waiting to do, and went completely stir crazy. So when that ferry was ready to leave, so were we.




The ferry seemed to take forever, but then again I've never really had sea legs and the patience for being on a boat for ages. It finally popped us off in Puerto Montt.
We headed straight to Osorno to find some tyres which we've been told about back on the Carretera Austral over the famed Pan American Highway.




In Osorno Mars noticed that her shock had transformed itself into a pogo stick. This revelation made me less than happy because those shocks were specially purchased to fit the trip with all it´s bad roads and heavy luggage. Karma I suppose. So to the internet cafe with us and luckily the people at Wilbers and their representatives were super quick with information and directed me to their rep. in Santiago where they would be able to repair it under warranty.

The PanAm Hwy takes you past the the lake district which is littered with volcanos.




We went off the PanAm to get a bit closer to the lakes looking for a camp site near Villarica. Taking the right turnoff proved a bit problematic but the philosophy of keeping your luggage as narrow as possible pays off in more ways than one.




The race to Santiago meant that we wouldn't always have the opportunity of finding nice camp sites. Sometimes you just end up having to the pitch tent next to a servo.




Once in Santiago we fought a hair raising battle with local peak traffic the worst we've ever experienced and this time with a bouncing bike with a Mars on it. Who in town centre decided to run an amber light just as I had both front and rear ABS brakes kick in which stopped me with screaming tyres. She ran into my left pannier taking a chunk out of it and falling over the raised pavement markers centimetres from a near brand new Discovery 3. Luckily she was fine and showing a smile about it all.

In town we found a student house which lets out rooms when available to travellers and kindly let us park our bikes in their foyer.




We thought a few beers would finish the day off nicely.




We found Carlos from Wilbers who besides representing Wilbers also sells hard to find accessories as well as clothing, luggage and runs his own repair shop. All from his house.

Because it was late Friday we thought we'd spend the weekend in Valparaiso so that we wouldn't be trapped in Santiago for too long.

We headed for the square and found our way from there.




It's not a bad town really which is heritage listed.




And we happily did the tourist thing for a day. But that´s about as much as we could muster though.




Plenty of time for some beers. Gotta love a girl who appreciates jugs.




Back in Santiago I removed the broken shock and let him have a sticky at it.




Carlos found that the shaft had jammed itself into the seal and become stuck in it. Very rare apparently but bad timing for us. Could it have been the volcanic ashes? But mine is fine and we crawled through it to not kick it up. Who knows.

I kept the seal as a souvenir.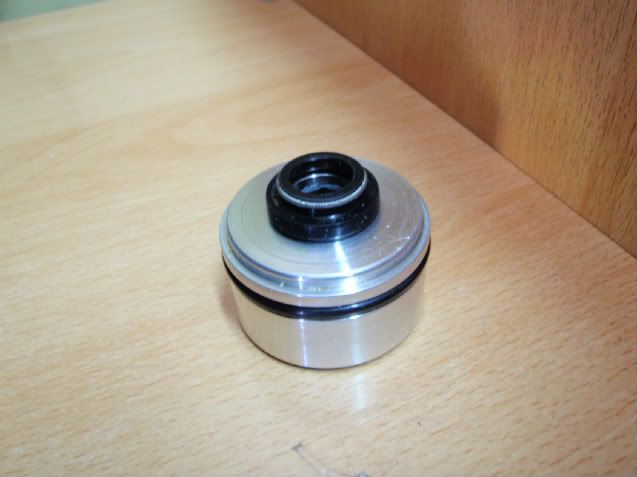 Keen to get back on the road we took off and crossed the pass into Argentina near the city of Mendoza famous for its wine.

This area is hot..... and windy. We figured that Argentina must mean ´hot and windy place´ in some local language. It must have been easily near the 40´s C. Beautifull though.