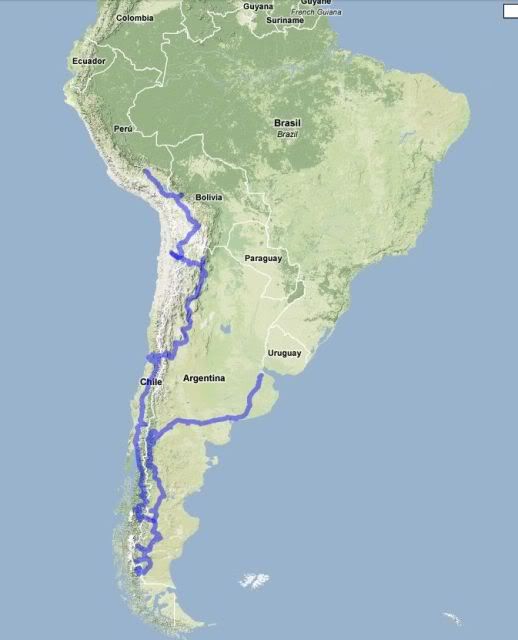 View Larger Map
We finally touched down after stopovers in Sydney, Auckland and Santiago. The chick at Flight centre assured us there wouldn't be one at Auckland, but it wasn't so. Not impressed…..


Clearing custom the day after we arrive wasn't too bad. One of the staff saw it all through, so all we had to do was pay. And plenty of it. An extra USD350+ which we didn't know about. Ouch. All up the finances aren't looking good. The crash of the Aussie dollar is really hurting, and we may only make it to Quito in Ecuador where the bikes may have to go on a boat back.
My precious crash bars didn't survive the flight too well. I reckon the boys in Santiago who had to swap airline pallets tightened the tie-downs so tight, that it complete buckled one of mine. I thought of getting it fixed, but now really can't be bothered. I'll have to make another one when I get back.




So it's now day 4 and I'm still trying to get used to this again. Doesn't help that the first few thousand kilometres are going through a landscape similar to the Nullarbor in Australia.


It´s not always this green.




So not a very nice introduction.

Not helped by the 2 punctures we've had already. Both on the same wheel. Well, it's actually 3 punctures, but the I'm not counting one of them because that was due to me pinching the tube trying to get it back on. Luckily for me there was a tyre repair dude nearby. But 30km down the road it went flat again. Only this time in the middle of nowhere. So we decided to swap the tube all together. A bit of a worry really, because that's our only spare and we couldn't find what caused it. No visible hole in the tube and no sign of anything on the inside of the tyre. Hmmm. So now we're looking for a 17¨ tube for a spare and hope we can make the one on the wheel last. We'll put another patch on the broken tube, but it's the fourth on that one so it's pretty much a goner.

We've found a few camps on the side of the road.



Looking for a suitable site. Jeez this thing is heavy.



On this site we were visited by the local police and the landowner telling us to leave. But after some chatting he let us stay providing we would be gone by sunset.




So far the food has been disappointing, and this place was a prime example.



Today though we camped at this lovely spot by a river. The town surprised us with a great bakery and nice tree lined streets.



So we finally crossed the barren landscape the Argentineans call La Pampa and arrives in the Lake District. You know it's bad and with a lot of it when the locals have a name for it.




Because it's so flat and barren, it's sweltering hot and very windy. And because the bikes are so heavily laden, they are producing a lot more vibes through the foot pegs. So much so that doing 100km produce sores on my foot from banging up against the boots.



We finally reached a river which meant some more options for camp sites. They are crazy about fencing here, and finding somewhere to pitch your tent is a real hassle. We've had a visit by a land owner and the coppers already. Luckily I managed to talk the owner into letting us stay until sunrise. But you look around at the waste land they own, and wonder why they care.



These guys were really nice though, and pointed us to the camp site.



The flat La Pampa gave way to some hilly La Pampa, which meant that the lake district was near.



Finally some green on our way to San Carlos de Bariloche.

We stayed in town for one night, arriving late. And set off to San Martin de Los Andes along a dirt road running right through the guts of the National Park Nahuel Huapi.



We hit our first proper gravel road, and it was tough going. It was freshly laid, and we're not that strong through this stuff as it is.



The views were so stunning, we were in no rush anyway.



They serve some mean flesh out here.



Although it´s very cold at night, the campsites are awesome.

The route to SM de los Andes, was going to spit us back out onto Ruta 40 which runs from the north-east of Argentina to the southern tip of it. We took it back to Bariloche for a day off. Normally we arrive late for a night, and ride out again in the morning. But this time we thought we'd use the opportunity for doing some laundry.



And eating some cheesy fondu.

We arrived just a bit too late for this history show they put on, but it was pretty cool seeing an endless string of all these guys in their traditional kit riding out of town.



From Bariloche we headed south along the famed Ruta 40. I've never heard of it before I started researching this trip, but apparently it's similar in fame to Route 66.

I try not to research to much normally to keep that sense of discovery, and you always end up changing your mind anyway. In this case I noticed on the map that there was another national park between Bariloche and the route south. Luckily enough, because it has become a bit of a highlight.
The park (Parque Nacional Lago Puelo) is set amongst these snow covered mountains with a bunch of lakes in it.



The road through it is all dirt.



We found an awesome camp site here. To me it´s the best of all our travels. We shared it with this crazy Polish couple who were cycling around the world for the last two years. They moved up the lake a bit, so it still felt like we had the place to ourselves. But the company was really nice so we went to get a bottle of vino to share around a camp fire. Magic.


The photo´s never do it justice, but you get the picture.



The riding here was great.



The park spits you out back onto Ruta 40 and it become very barren again.



We thought camping was going to be a problem again, but we weren´t surprised with a police visit this time.




The first day of proper dirt riding over Ruta 40 was just brilliant. I loved every minute of it. The bikes are performing as they should, and you really don't notice the luggage much at all. Mine weighs 275kg + fuel and water, but we were flying over this stuff at 80-100km/h without problems.




The further south it went, the more the straights became twisties.




The south of Argentina is famous for the prevailing winds. It's where the Pacific winds cross over land to the Atlantic. And they blow fierce. Hence these signs. This is what day 2 of the big push towards the Glaciers National Park was going to bring us.




With the winds it was really like there were 2 people riding the bike. Note on the picture that although I'm turning into a left turn, I'm still pushing the bike to the right. At one point I got blown of the road.




The scenery started to change further south from steppe to more lunar type landscapes.




Being more and more remote, we had to increasingly keep an eye on our fuel range. This town of 100 had one restaurant, one shop and one fuel station. And all in run by the same bloke. But he had a proper coffee machine, so we were happy.




We encountered quite a bit of wildlife. I´ve had two armadillo´s cross in front of me, at least 10 rhea´s which are like an emu or ostrich. Beautifull to see them run. And off course a few Llama relatives. Not sure if they are Vicuna's or Guanaco's.




The ripio (what they call a gravel or dirt road here) lasted untill the tiny town of Tres Lagos from where the bitumen lead you all the way to either the tourist towns of El Chalten, or El Calafate. We chose to drop into El Chalten first. The weather was really shitty here. The hostel owner told us that the town wasn´t built in the best possible location, as the weather is always better just outside of town.

This is the road leading in to it.



We only stayed a night there as we´d come back to see if we would be able to cross into Chile from here. Something that as far as I now had never been done on a motorbike because it´s really a horse track between 2 lakes. Sounds like a challenge to me.

The road to El Calafate (largely Ruta 40 again) is almost entirely paved, but we enjoyed the dirt sections the most. Helped that these were the least wind swepped sections.




The glacial lakes here have this vivid turquoise colour.




The only real reason for El Calafate to exist is the glacier Perito Moreno. It´s massive. 50-55 metres high........ and a bit nippy.