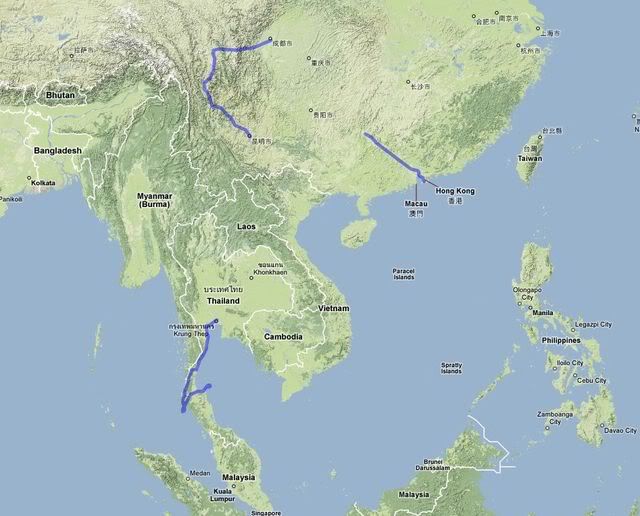 View Larger Map
China had left a big impression on me when I went there first time. So when we were looking for a place to stop over on our way back to Europe it was the first place that came to mind. I was keen to see the changes that everyone keeps talking about. I would be largely the same southern route as last time, only without some of the remote places and with another route to Chengdu through Zhongdian.


We would fly into Hong Kong and have a look around. This time I wouldn't have to apply for a visa.



Hong Kong by day



Hong Kong by night

The first place I was keen to see was Yangshuo. When I went there last time the Chinese didn't seem to be to interesting in it. They rather stayed in the concrete jungle of Guilin just down the road. This time though, they all flocked to Yangshuo which is a much more attractive town. Where nearly all the tourism was aimed at overseas travellers, now those places were the minority.




I did a few things I didn't get around to doing last time. Like the bamboo rafting.


If you ever go to a Chinese restaurant, than you are most likely to see this scenery hanging on the wall somewhere.


One of my favourite animals. The water buffalo.

Mars picked up some sort of illness and was coming down hard. This made us speed up the pace a bit. So we flew to Kunming and on to Lijiang.


Lijiang is a beautiful traditional Chinese city that got flattened by an earthquake in 1996. Luckily for the residents the government decided to rebuild many of the high-rise buildings in the areal in the old style providing the residents with an industry. Tourism…. And it's big here.


Some interesting souvenirs.



Mars went on the antibiotics and seemed to kick it slowly.

From Lijiang we went to Zhongdian, gateway into Tibet.



We went for a quick meal and when we got back the whole old town was dancing.


Buddhist monastery.

Zhongdian was the starting point of a route to Chengdu that was described as the back door route.



Tibetan traditional architecture.



Tibetan traditional internal decorations. The whole place smelled of yak butter tea.
Yaks are everywhere.



Used for farming.


Or running them around town.

The scenery was great



But got even better above the tree line.



Because we had a pre-booked ticket out of Bangkok to Amsterdam we couldn't stay in China much longer. We wanted to do a bit of driving in Thailand to the Phuket region and onto the tropical island of Koh Samui on the other side of the country.



Phuket



Muay Thai.