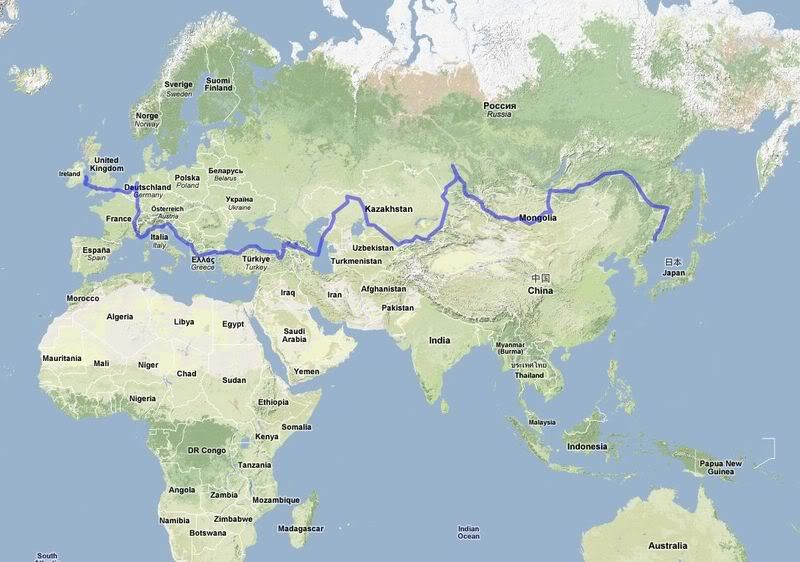 View Larger Map
In 2005 we set off on 2 Yamaha XT ZE Tenere (3AJ) and we soon found out that we didn't have a clue. We had read Chris Scott's Adventure Motorcycling book and watched Austin Vince's Mondo Enduro and Terra Circa and that was about as much research that we did. We asked Dave Lambeth just outside London to build us the bike with all the luggage and everything on it. All we had to do was raise the money.
Dave soon found out how little we knew about bikes so he encouraged us to at least do a beginners maintenance course. We did that, but didn't really do much hands on stuff on our bikes. The good thing about travelling is that there are always people that can help you out. Even if you're stuck in the middle of nowhere something good always seems to happen.

How did it all go? Well, not too bad considering. The bikes did ok. We lost 1 battery in the desert, a one way starter gear and 3 rear brake calliper brackets. We couldn't really find tyres anywhere so we had one bike finishing the trip on the original front tyre. But for the rest we had to rely on hand me down tyres from other bikers and an overpriced second hand in Novosibirsk.

Here are some pictures.

France. Finding camping spot in densely populated Europe is always a bit of a mission.



Same in Greece



Istanbul. Need I say more?



Turkey's Black Sea coast blew us away.



The mountains aren't to shabby either.



As tough as Kazakhstan was, the memories of the vast open spaces are great.



It's desert all the way to the foothill of the Pamir Mountains.



Mongolia's mud can by very challenging. Especially just after you had a shower.



The grassy plains on the sunny day are hard to beat.