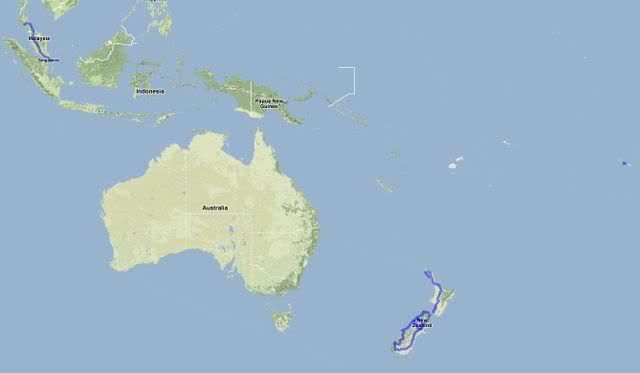 View Larger Map
With Mars having never been to New Zealand I was keen to show her the beauty of the place. I figured that I ran out of time there last time with heaps of treks still on my itinerary. So I wanted to get the maximum out of my time there now by doubling the time spent there this time.
Unfortunately the weather and my health didn't want to play their part.



We started with a simple trek firstly to get into shape. I chose to walk the St James' Walkway again. I made that my first trek last time as well, and found it perfect to get into it. But this time I injured my knee there being a bit to zealous. It was going to play up during the whole trip in the end.



NZ had heaps of backcountry huts which means you don't need to bring a tent to go trekking.



It's just perfectly setup for this kind of stuff.



There is plenty to see just from the side of the road. This is Otago.



We went about by hitchhiking, which is very easy there.

I made a tiny little mistake with the budget by not allowing for contingency funds for things like injuries. The idea was to stay in the backcountry huts which is dirt cheap on an annual pass. But due to my injury I couldn't walk much and because the rangers kick you out of the huts if you stay for more than 2 nights, we were forced to stay in hostels and other expensive accommodation. This blew the budget out pretty quickly. Luckily Queenstown was having some staffing problems. So we went there and applied for a housekeeping job in a 4 star hotel. After not too long we got sick of that, so we went to work at Subway restaurant. We didn't last too long there either, but we made enough to sit out our time in NZ until we were going to fly out to Tahiti.

Luckily for us Queenstown very pretty if the weather is right.


Lake Wakatipu


The founder and his best mate. How Kiwi is that?

To spend the time we travelled around the South Island to take in all the hot spots.


Franz Joseph glacier



Milford Sound



The fjords


Just amazing the carving power that those glaciers have.

We did do one 2 day trek still. The Croesus Track. It's still one of the best I've done because of the time spent above the tree line.


The Tasman Sea is on the other side of the fog.



Warming up next to the stove.



What goes up must come down.

Our flight and our friends were in Auckland, so we had to make our way over to the North Island as well. I prefer the South Island over the North.



Mount Ngauruhoe is an active volcano.

Next stop was Tahiti.


Moorea Island is one of the many islands that make up Tahiti.



The accommodation isn't too shabby. Talked US$100 off this one. But that still left heaps to pay.

From Tahiti we flew to Kuala Lumpur the Malaysian capitol via Australia on our way to London to be a bit closer to my family.



The Petronas Towers. Once the tallest building in the world.

Having already travelled some of the northern part of South East Asia, I wanted to see some of the southern part. So we aimed to travel to Krabi in Thailand. It was very beautiful, but on this stretch of the trip I decided that I had enough of backpacking and wanted to start riding a motorbike around instead.



The famous limestone peaks sticking out of the water at Ao Nang near Krabi.