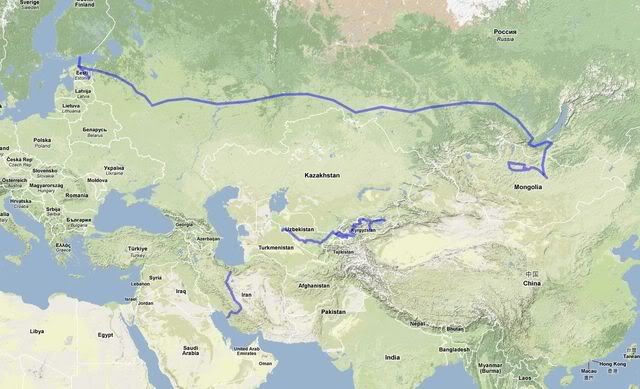 View Larger Map
On my return to London I met Mariya who I talked into coming to Mongolia to me to ride a horse around for 2-3 month. Being an adventurous spirit like me she agreed and we began working out the plan.
Instead of the spending a lot of money to fly into Ulaan Bataar I wanted to take the Trans Siberian the other way and save on the money. So we flew into Helsinki, took the ferry to Estonia and take it from there.



Tallinn is a beautifull town. But it being early spring it was still very cold.



We had to wait for our train to Moscow and did get a bit bored in Tallinn.



St Basil's again. Still covered in scaffolding.



Moscow's underground is the best in the world, with the stations being more like museums than stations.



After a few beers around town we took the train to Irkutsk and onto Ulaan Bataar.



We stayed at this lovely old lady called Dolumdga who also helped us out with the sewing of the saddlebags.

We bought 3 horses of this bloke we met in Ulaan Bataar from his place in Moron further inland. He turned out a rip-off, selling us 13 year old horses instead of the 7 years olds he said he would. Horses in Mongolia have to suffer a hard life and don't get very old. Having no experience with horses at all, we didn't know how to check this when we bought them. The learning curve was steep but we enjoyed every minute of it.



The creeks were still covered with ice but the weather turned hot in a matter of days.




We had the best time and were sad to have to sell the horses. We used a few over the 6 weeks or so but the last three had to go to good homes.

We were planning to go to Kyrgyzstan and do the same there, but we soon found out that the Kyrgyz conformed to the Russian way of life which in is a stark contract to the Mongolian lack of private land ownership. The horses cost a lot more as well, so we ended up buying one and simply walk with it. At least we now knew what to look for.



Camping on the foot hills of the Tian Shan mountains.

The horse trip didn't last long as the horse got stolen. So back to hitchhiking and buses again than.



Tash-Rabat carrevansarai on the silk route.



It's not all green.



The ever present Lenin.



Typical Central Asian cemetery



Kyrgyz village



We went through the troubled Fergana Valley into Uzbekistan.



The Registan in Samarkant



Tea House



Arq fortress in Bukhara



The Kalyan minaret



Timur himself



More desert. Can't escape it.



The beauty of Khiva



Apparently this is Jacob's Well.



Friendly Turkmen on their way back home.

We went back to Fergana in the valley to have a look as some old silk factories. But because Stalin drew the borders between Kyrgyzstan, Uzbekistan and Tajikistan in a way to displace and divide the local population and keep them occupied with their own problems rather than cause Stalin problems, we ended up briefly going through Tajikistan on the train. The border officials insisted on stamping out single entry visa which didn't cause any problems going back into Uzbekistan which technically should be possible. But when we wanted to fly to Turkmenistan the airport officials told us that our visa was already stamped for exit and therefore no longer valid for exit unless we paid a fine. Not wanting to pay the fine I called their bluff thinking they'd wave us through if we stall them for long enough. But instead they rather had us staying illegally than have us leave. They pulled our luggage of the plain and told us to come back with a valid visa. How to go about this they didn't know. Our Turkmen visa was only valid for three days, and there wouldn't be another flight for a week. So our only option was to go direct to Iran. We had the visa already luckily and all we needed now was a ticket. We had to pay in cash with local currency though.



It filled up my backpack.